EUROPEAN PARLIAMENTARY GROUP OF THE KKE
Intervention in the European Parliament on the persecution against the CP of Ukraine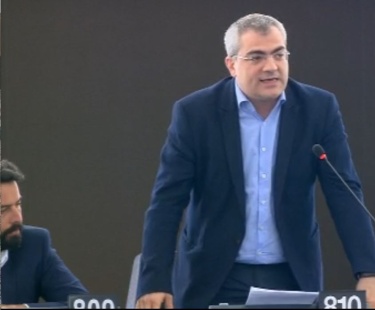 The ban on the CP of Ukraine and its newspaper was denounced by KKE MEP Costas Papadakis in a discussion with Vadym Prystaiko, Ukraine's Foreign Minister, at the European Parliament's Foreign Affairs Committee (AFET). The KKE MEP specifically stated the following:
"On July 16, the Constitutional Court of Ukraine imposed a ban on the CP of Ukraine. On August 19, the Kyiv District Court banned the circulation of the "Rabochaya Gazeta" (Workers' Newspaper) of the CP Ukraine. It also stripped the Party of the right to participate in elections. The above demonstrates the hypocritical slogans of "freedom", "human rights" and "civil liberties".
Your government, like its predecessors, enables the action of fascist gangs and, as has been said here before, it attends political meetings and honors the political descendants of the Nazis, while with EU support provocatively and ahistorically equates communism with the monster of fascism.
What position do you take regarding these unacceptable and outrageous decisions and the inalienable right of communists to political activity, to the unhindered dissemination of their ideas? "
The Ukrainian Foreign Minister was forced to admit to the persecutions which have been taking place against the CP of Ukraine by the governments of the country, attributing them to the previous governments and hypocritically claiming that "in theory, I fully understand and agree with you, on the basis that no ideology should be banned, "and then, referring to the intentions of his government, ... he postponed the lifting of bansand persecutions indefinitely,speaking generally and vaguely of "postponing future implementation" of such measures. In addition, regarding the support of the Nazi gangs by his government as well as by the previous ones, he said defiantly: "This question is often asked, because we have so many extremists. But that's what happens when your land is stolen, the peoples, when your people are killed, you need to exploit the extremists as well"…
17.10.2019