Mass, militant demonstration at the US embassy against the agreement for the expansion of NATO bases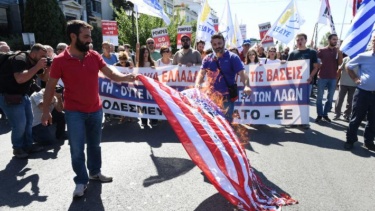 On the 5/10 Athens protesters made their opposition, against the renewal of Greece-USA military bases agreement,  loud and clear, by burning a USA and a NATO flag outside the US Embassy, the symbol of imperialism, that murders people and countries for the sake of tits own interest. The new agreement includes the expansion and strengthening of NATO bases in our country, upgrading it to a military base for imperialist interventions in the wider region, putting the people in great danger.
The gathering and demonstration was organized by a Coordination Committee, including participants from the Greek Committee for International Detente and Peace (EEDYE) , class trade unions, under the the All-workers' Militant Front (PAME), theFront of Students' Struggle (MAS) etc.
The keynote speech was given at the rally outside the Greek parliament by Nikos Papageorgiou, member of the PAME Executive Secretariat and the Federation of Food and Tourism  Workers Board, while greetings were addressed by Stavros Tassos, President of the EEDYE.
Shouting out the slogans "Neither land, nor water for the killers of the peoples", "Shut down the bases, no participation - no involvement in NATO war ", "We do not want NATO protection - Outwith the predatory alliance" and "Greece out of NATO ", protesters expressed the popular sentiment against the expansion of NATO bases and gave a categorical response averse to the governments', and other bourgeois parties, efforts  to cultivate dangerous complacency and expectations, trying to convince for the so called "benefits" of the agreement, supposedly guaranteeing the security of the people against the aggression of the Turkish bourgeoisie in the Aegean and Cyprus. Earlier, in a symbolic move to condemn American imperialism, protesters threw red paint at the statue of former US President Truman. Police forces rushed to defend the statue and responded by throwing chemicals and stun grenades at the demonstrators, yet unable to thwart the protesters' decision to express popular sentiment against the expansion and presence of the bases, heading towards the US embassy.
The GS of the CC of the KKE D. Koutsoubas attended the rally  and  told reporters: "The signing of the new agreement between Greece and the USA, particularly the presence and expansion of US military bases in Greece, leads the Greek people to even greater insecurity, even greater regional instability, even greater involvement in interventions, in missions across borders and imperialist wars, and for that reason we are raising a stern "no" to all of that here today. We continue the struggle, we continue the resistance. "
Similar demonstrations took place in dozens of cities around Greece.
07.10.2019